Horleys Ice Whey
Welcome to the Ice Age!!
Item available:
Horleys Ice Whey (800g)
Available flavour: Chocolate, Vanilla and Strawberry
*please take note that I have limited stocks, those are for my personal usage.
Expiry Date:
Mid Year 2009 (Best Before May)
Price:
Horleys Ice Whey (800g) = RM170
*Negotiable if buy more.
Dealing method:
1) Maybank2U
2)COD only in Subang / Sunway / LRT stations
Contact method/details:
Just Pm me if you have any questions.
---
Picture: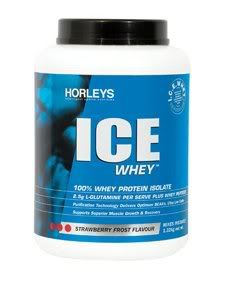 What's So Special about Ice Whey?
Cation Exchange technology selectively extracts those whey fractions that contain most branch chain amino acids. Hoirleys Ice Whey has been specifically engineered to deliver not only the purest protein but also the highest concentration of BCAA's per gram of any intact protein source currently in existence.
And This Matters Because?
Muscle only grows when it has enough of this specific amino scids that stimulates protein synthesis. ICE Whey has been engineered to optimise the natural amino acid profile for serious muscle gains
For more information, please kindly visit the official website
http://horleys.com/ViewProduct.aspx?id=3