So Nyeo Shi Dae (Girls' Generation)
소녀시대,少女時代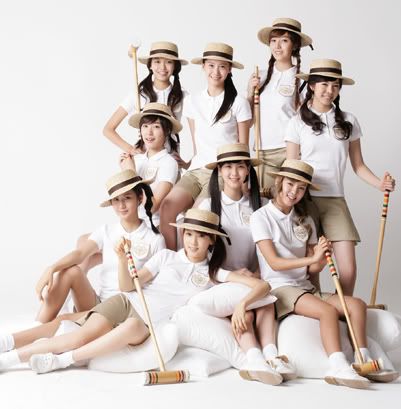 Girls' Generation, also known as SNSD, the acronym of So Nyeo Shi Dae (Hangul: 소녀시대; Hanja: 少女時代), is a nine member South Korean girl group formed in August of 2007 by SM Entertainment. The members include (in order of official announcement) Yoona, Tiffany, Yuri, Hyoyeon, Sooyoung, Seohyun, Taeyeon (the leader), Jessica, and Sunny.
The team consists of nine members who are fluent in many languages including English, Chinese and Japanese. The group is also versatile in various fields such as singing, dancing, acting, modeling and MCing. The nine member group will aim to take over the music world in all of Asia.
Pre-debut
The members were professionally trained primarily in singing and dancing, while some members were also selected to be trained in acting and modeling. Many of the members already had made names for themselves in the Korean entertainment industry through their participation in magazine ads, television commercials, and small television appearances. For nearly two years, Korean websites speculated about which of the female SM Entertainment trainees would be placed into the group[citation needed]. Before the official release of the group name, Girls' Generation, it was rumored that the group would be named "Super Girls" after their so-called counterpart, Super Junior.
Debut and First Album
On July 19, 2007, Girls' Generation had their first performance on M.NET'S M!Countdown. Although this performance was never broadcasted on television, many videos were shot by fans and uploaded onto the internet. The song the girls performed was called "다시 만난 세계 (Into the New World)", which ended up being their first single.
On August 2, 2007, the single "다시 만난 세계 (Into the New World)" was released. This single included two other songs, "Beginning" and "Perfect For You (소원)", later renamed as Honey for their debut album "Girls' Generation". An instrumental of "Into the New World" is also included.
The group began promoting the single soon after its release. On August 5, 2007, Girls' Generation made their debut performance on SBS's Popular Songs, performing their first single. Although it was their first televised performance, it was lip-synched, making netizens doubt their live performance capabilities[citation needed]. A few days later, on August 11, Girls' Generation did their first live performance on MBC's Show! Music Core, which was met with mixed reviews[citation needed]. The day after, the group performed live for the second time on KBS's Music Bank. This performance also had mixed reviews by netizens.[citation needed] Despite this, on October 11, 2007, Girls' Generation won first place with their popular song, "Into the New World" in M!Countdown, beating Lee Seung Gi by a couple of votes.
After a short break, their first full album was released on November 1, with the lead single "소녀시대 (Girls' Generation)", a cover of Lee Seung Chul's hit. Promotion for the single started in early November. Marked by cutesy dance routines and vocals, "Girls' Generation" was a hit for the group, and the album has sold 56,
4 copies to date, placing 12th in the year-end charts.[1] In January 2008, Girls' Generation began promoting their second single, "Kissing You". The music video featured Donghae from Super Junior. This song achieved the #1 spot in the three main TV music rankings—SBS Inkigayo, M.Countdown! and KBS Music Bank[citation needed].
On March 13, 2008, the album was re-released, now titled Baby Baby. A third single, "Baby Baby", was used to promote the album throughout March. As of April 2008, the girls have ceased promotion of their album; however, a digital EP featuring Jessica, Tiffany, and Seohyun was released on April 7, 2008, titled Roommate. The single from the mini-album is "오빠나빠" (literally "Bad Brother", although contextually it refers to an older male (boy)friend).
The group will mark their first North American appearance by performing at the annual Korean Festival held at the Hollywood Bowl in Los Angeles, California. The concert will feature a slew of other Korean pop and folk singers, including management mates Super Junior-T and TVXQ. The concert is set to take place on May 17, 2008.
Documentary
Girls' Generation's documentary Girls' Generation Goes to School (소녀...학교에 가다) began airing on July 27, 2007 on M.NET. There were a total of nine episodes, with seven focused on their performances, one "behind-the-scenes" look at the girls' world, and the last being a bonus episode of the girls performing at Sunny's high-school. Another show, broadcasted on MTV Korea, shows each of the girls at home.
Charity Cafe
Girls' Generation took part in an event named "Charity Cafe" with Park Tae Hwan , in order to raise money to help with the oil spills. This event was recorded in 2007 and proved to be very successful, showing another side of the girls.